20.6. [2E, Level 1] Bounty #4: Cat's Cradle JA/TAI Bounty #5: Witch's Winter Holiday
Lähetetty: 20 Kesä 2022, 01:02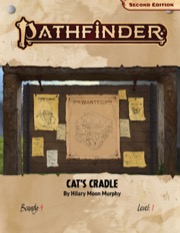 Pathfinder Bounty #4: Cat's Cradle
A Pathfinder Bounty designed for Level 1.

On a recent trip across the trade routes of the Golden Road, a merchant was robbed and her beloved family heirloom—a puzzle box—stolen.
You will have to keep their wits about as they head into the desert to unravel the riddle of what happened and recover the missing antique.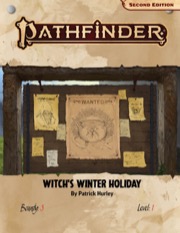 Pathfinder Bounty #5: Witch's Winter Holiday
A Pathfinder Bounty designed for Level 1.

Everyone loves Winter Week! But a witch in a quiet town isn't finding the preparations for the big holiday feast as joyful as usual, and she's overwhelmed by all the work left to do. As you respond to her request for helpers, can you ensure the festivities go off without a hitch?
Aika
: klo 17:30, kesto 1 tunti/Bounty, eli n. 2 tuntia jos haluaa pelata molemmat.
Paikka
: Blockhouse Games -pelikauppa, Kauppiaskatu 19c, 20100 Turku (Sisäpihan takaosassa),
https://blockhousegames.net/
Tier
: 1
Scenario Tags
: Repeatable
GM
: Propagandalf
Pathfinder Training & school items
Boonit ja player rewardit
(lunastetaan nykyään Paizon sivuilta, osa voi maksaa AcP:ta)
Osallistujat (6. slotti varattu uudelle pelaajalle, jos on paljon tulijoita):
1.
2.
3.
4.
5.