8.8 [2E] #3-12: Fury's Toll (Tier 1-4)
Lähetetty: 05 Elo 2022, 15:33
#3-12: Fury's Toll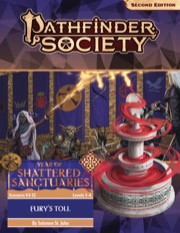 When a group of Pathfinders sent to establish a presence at the Society's new lodge in Sedeq, Qadira, failed to report back, the Society sent a second group to investigate. The second group succeeded and with the missing Pathfinders safe and sound, it is now time to prepare the lodge for a grand opening celebration.

Important figures from all across Qadira have been invited to attend—including some potential allies—and the Society is counting on its agents to ensure the event goes off without a hitch. The Society's future in Qadira may depend on the success, or failure, of this event!
Fury's Toll is part of the ongoing story of the Year of Shattered Sanctuaries. It is the second scenario in a two-part arc detailing the events befalling a Pathfinder Society lodge in the nation of Qadira. The first part of this arc is Pathfinder Society Scenario #3-08: Foundation's Price. Other arcs explore other locations across the Inner Sea. While the arcs can be played in any order, it is recommended that players experience the scenarios within each individual arc in order.
Aika
: klo 17:30, kesto noin 4 tuntia
Paikka
: Turun Fantasiapelien alakerta, Humalistonkatu 8
Tier
: 1-4
Scenario Tags
: Metaplot (Shattered Sanctuaries), Faction (Envoy's Alliance)
GM
: Propagandalf
Pathfinder Training & school items
Boonit ja player rewardit
(lunastetaan nykyään Paizon sivuilta, osa voi maksaa AcP:ta)
Osallistujat (6. slotti varattu uudelle pelaajalle, jos on paljon tulijoita):
1.
2.
3.
4.
5.