12.11 [2E] #4-05: The Arclord Who Never Was (Level 1-4)
Lähetetty: 09 Marras 2022, 16:47
#4-05: The Arclord Who Never Was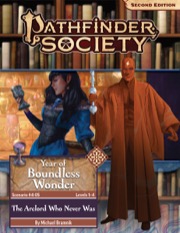 A skull with glowing eyes was among the many objects which recently turned up in the Pathfinder Society's vaults, and none of the other objects are quite so talkative as this one! In fact, the skull isn't an object at all, but a person.

The Society isn't sure who, or what, they are, and the skull seems to have lost their memories. Nonetheless, the skulls requests—no, insists—that the Society return them to their former glory at once!

Grand Archivist Zarta Dralneen has determined that the skull is from Quantium, the magic-filled capital of Nex. She dispatches a group of Pathfinders to conduct a simple research mission and guide the skull around the city, hoping to jar the skull's memories and learn the truth.

"See the world," they said. "Simple research mission," they said.
This adventure is the
part 1
of the two-part
Skull & Scroll
metaplot arc in the Year of Boundless Wonder.
Aika
: klo 12:15, kesto noin 4 tuntia
Paikka
: Blockhouse Games -pelikauppa, Kauppiaskatu 19c, 20100 Turku (Sisäpihan takaosassa),
https://blockhousegames.net/
Tier
: 1-4
Scenario Tags
: Metaplot (Boundless Wonder), Faction (Envoy's Alliance, Vigilant Seal)
GM
: Tomppak88
Pathfinder Training & school items
Boonit ja player rewardit
(lunastetaan nykyään Paizon sivuilta, osa voi maksaa AcP:ta. Kysy näistä lisää joko pelinjohtajilta tai Discordissa!)
Osallistujat (6. slotti varattu uudelle pelaajalle, jos on paljon tulijoita):
1. Propagandalf
2.
3.
4.
5.