3.3. Mark of the Mantis (lvl 6 valmishahmot) (2nd ed.)
Lähetetty: 02 Maalis 2023, 09:51
Mark of the Mantis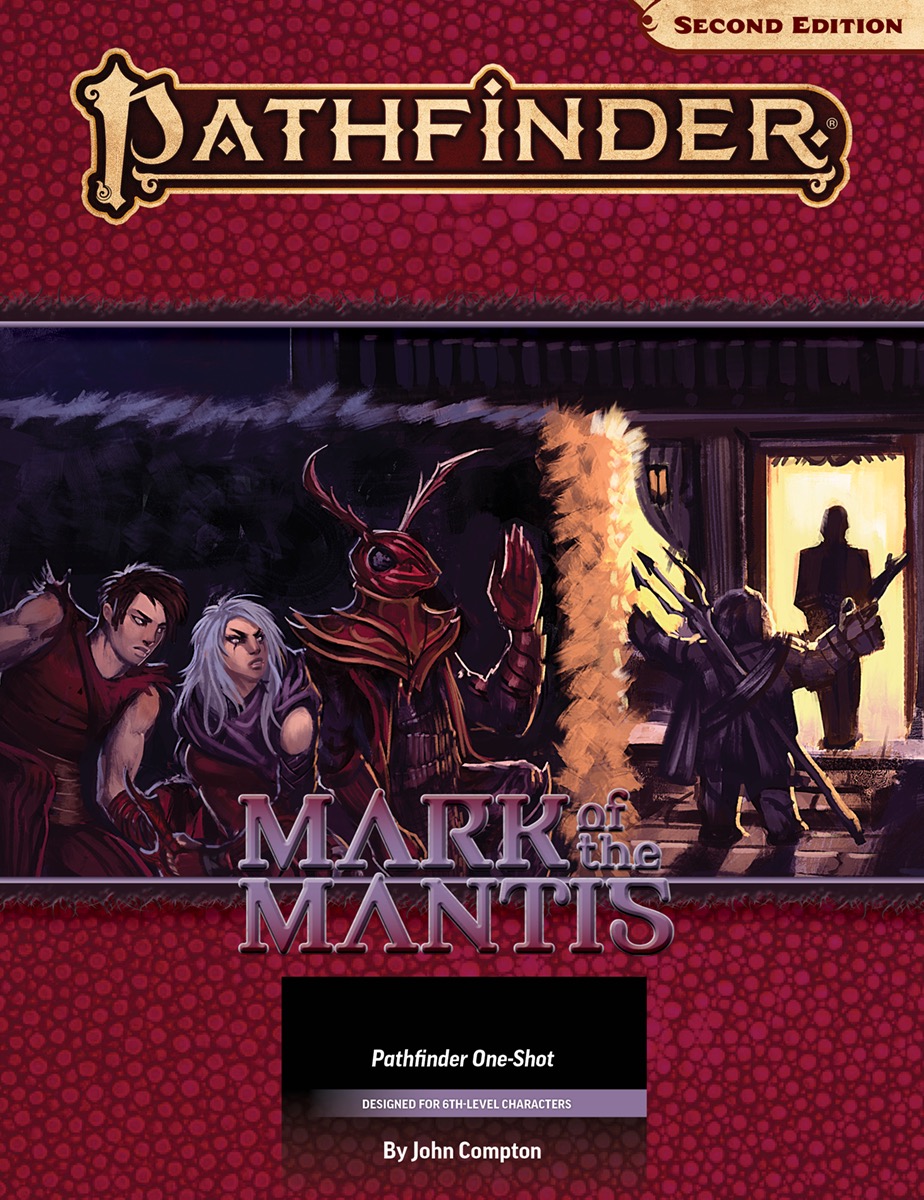 The Red Mantis assassins are one of the most feared organizations on all of Golarion, for their reach is far and their methods effective. When several of Absalom's councilors from the Petals District turn up dead, all evidence points to Red Mantis responsibility. However, the truth is that the sole surviving council, a secretive servant of the evil deity Norgorber, is responsible and now stands to be elected without opposition. The murderer masquerading as a Red Mantis assassin is one thing, but since the kills were so inexpertly done, the Red Mantis cannot allow the noble to live. Assigning several agents to the mission, the Red Mantis intend to infiltrate the noble's manor and execute her for her slight against their order. With three Red Mantis assassins and one bitter mercenary on the job, the noble must die before the stroke of midnight.
Aika
: klo 17:30-21:30, kesto n.4 tuntia
Paikka
: Propagandalfin luona, Ketarantie 26 B 68 (lisäohjeet ja ovikoodin saa whattsappin/discordin kautta)
Tier
: lvl 6 valmishahmot
Scenario Tags
: Adventure Mode
GM
: Tomppa
Pathfinder Training & school items
Boonit ja player rewardit
(lunastetaan nykyään Paizon sivuilta, osa voi maksaa AcP:ta. Kysy näistä lisää joko pelinjohtajilta tai Discordissa!)
Osallistujat (5. slotti varattu uudelle pelaajalle):
1. Päivis
2. NinjaTuna
3. Propagandalf
4.
5.
lisätty Päivis ja Ninjatuna ilmoittautuneisiin whatsappista, + propagandalf koska tämän luona pelataan.